Simple & flexible
Keep your cloud servers safe with our simple yet powerful & flexible UpCloud backup solution.
No credit card required. 14-day free trial.
Powerful features
Improve your UpCloud backup stragey
Automatically backup your UpCloud cloud servers to keep your data safe. Be prepared when the worst happens.
Multiple accounts
Do you have more than one UpCloud account? No problem! You can easily connect multiple UpCloud accounts.
Fast recovery
When the worst happens, you will be able to quickly spin up a new cloud server from any of your UpCloud snapshots and get back online.
Securly stored
The snapshots are securely stored inside UpCloud's infrastructure, making the restore process fast and simple.

UpCloud Cloud Servers
Backup your UpCloud Cloud Servers.
Powerful yet simple backup settings
With our simple, yet powerful backup settings you can easily configure when the backups should be taken and for how long we should keep them.
Hourly to daily backups

Choose from hourly up to daily backups.

Powerful retention

Retain the most important backups and save on storage costs. You can configure how many daily, weekly and monthly backups should be kept.

Simple restores

Snapshots are securely stored inside UpCloud's infrastructure and can be restored directly from thier dashboard.
Cloud servers overview + auto-discovery
Don't spend time configuring backups everytime a new Cloud Server is created and be up to date with what happens in the background with your data.
Detailed overview

View all the snapshots of a Cloud Server, filter by status, tags and manually create or delete each one of them.

Auto-discovery

Weap detects when a Cloud Server is created from UpCloud and automatically imports it.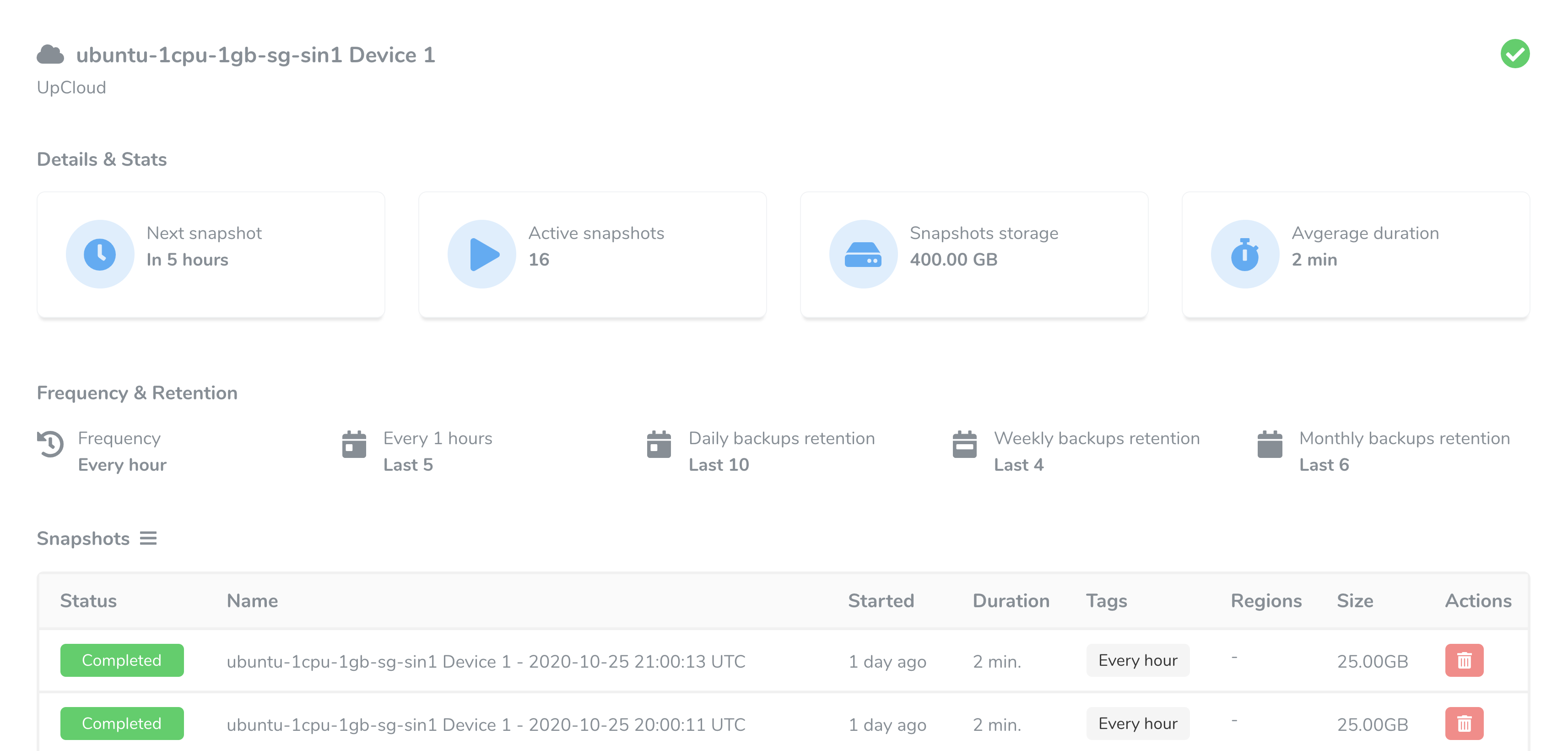 Ready to take your first backup?
Start your free trial today.